Simple. Effective. Flexible.
Now you can email and text all your call center applicants from one easy-to-use system on your desktop or mobile device.
We offer a variety of tools to help you do more business. Take advantage of the new CustomerTrack Platfom CRM tool. Our exclusive customer tracking software provides all the tools you need in one easily accessible location. Our convient uncomkplicated software provides an appointment calendar and reminder service, customized PDF letter and label printing, centralized email solutions, activity tracking, online application service, customer profiles and much more. All from the palm of your hand!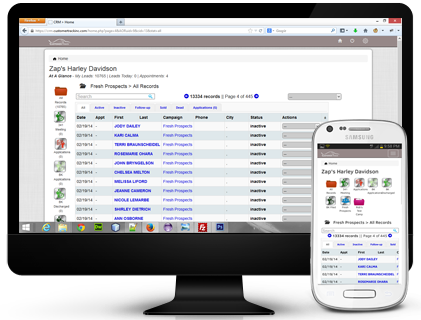 CustomerTrack Platform's CRM helps me save time by allowing me to market all my applicants at once.

Jay Marsack Cole Nissan
We at Elite provide a completely transformed, individualized CRM user experience that is immersive, engaging, and intuitive.
MyFreshProspects.com is a complete CRM solution that automates your core sales, customer service and marketing processes, with a focus on the individual. Users get powerful functionality they will actually want to use, driving higher adoption and greater business insights.
Acquiring new customers is much more expensive than selling to existing ones. With Elite and CustomerTrack Platform customer support, you will have confidence that customer cases will be handled quickly and effectively, boosting customer satisfaction and loyalty while turning your support organization into a competitive differentiator.



Key Features.

Personalize Messages
Personalize messages with merge fields and send engaging messages that can be batched to every entry in your campaigns.
Events and Tasks
Quickly add tasks such as phone calls, submission deadlines or events such as meetings and receive reminders to your email on each of them.
Real-time Alerts
Stay notified with real-time notifications when your prospects submit an application, make an appointment or when new leads have loaded.




Email Personalization
Add a personal touch to your emails and win them over with tailor made variables just for them.
Auto Responders
Send automatic email responses with relevant info on purchase completion and appointment reminders.
Applicant Text
Communicate with all applicants via mobile texts from your desktop or from your smart-phone.
PDF Labels and Letters
Market to your prospects with custom name and address fields that dynamically place each entry into the appropriate letter or Avery label.
SSL 128k Encryption
Every campaign record, applicant, text, email message and action is 128k SSL encrypted for top tier security.

Event Calendar
Get an overview of your past and present reminders, appointments and events in a 30-day format.